Into-form by ilco
Into-form is an abstract furniture design project, between art and design, by ilco.

Into-form explores the concept of gestalt: the idea of a form created by individual parts arranged
together and to be seen as a whole rather than as a sum of its components. Five shapes are at the
disposal of the user who has the freedom to join them together depending on their needs and
feelings. Once arranged, we are looking at an ephemeral and functional sculpture, with every new
assembly becoming a new gestalt. The body/ies interacting with Into-form are turning into
additional parts and fully merge into the whole picture, becoming each time part of a new gestalt.
Purely sculptural, purely functional or playing on both aspects at the same time, Into-form aims to
create an emotional bond between the user and the furniture using art as a tool. The many
possibilities and ephemeral aspect of each creation along with the interactive and participatory
nature of the work should stimulate empathy towards the pieces of furniture and raise creativity and emotions, enabling a connection to blossom between subject and object over time and thus a better lifespan for the latter.

Into-form is not a chair, not a sofa, not a daybed, not an armchair... It is none but all at the same
time! Into-form is very modular with endless possible configurations and aims to enhance and
embrace the user's freedom at its best.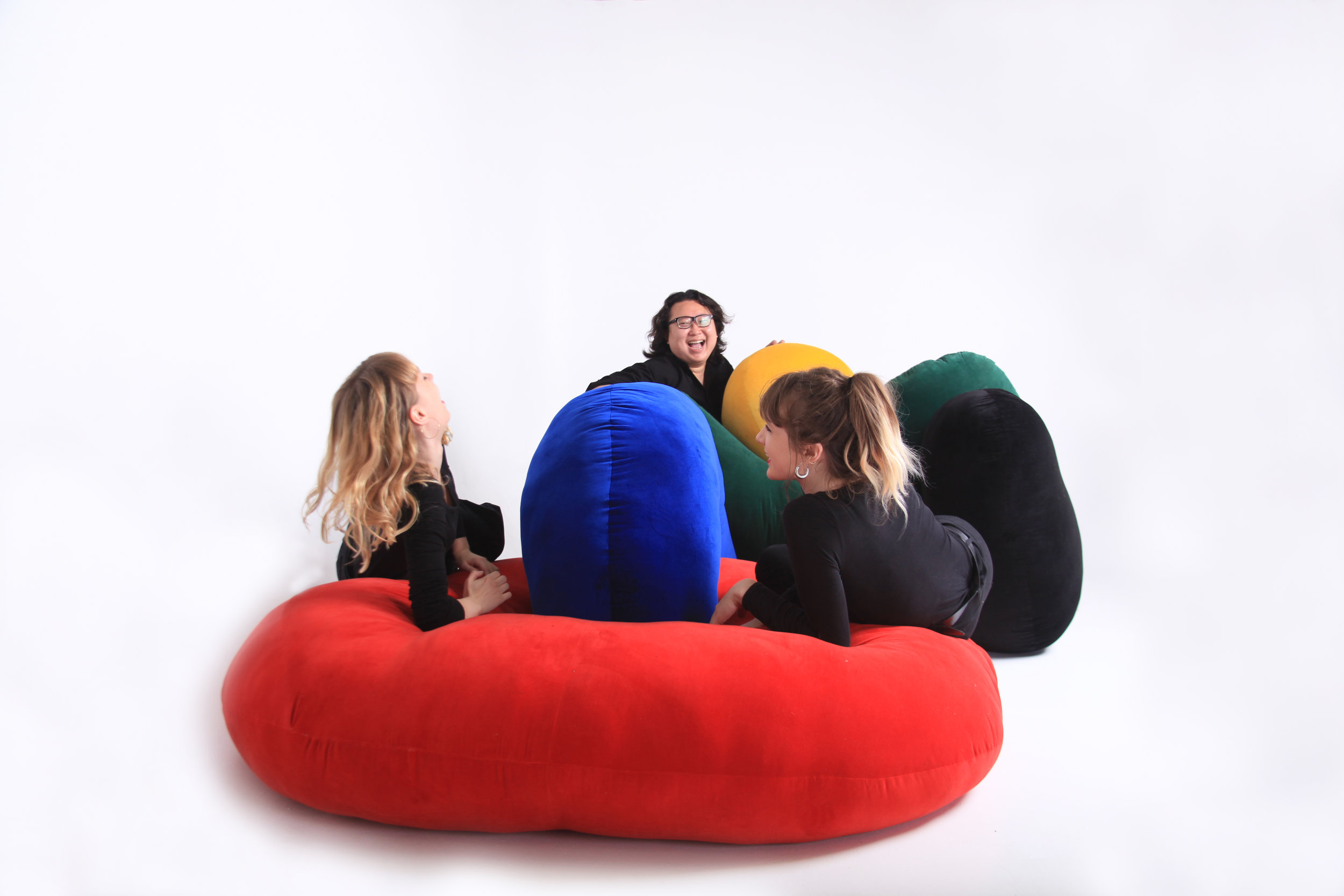 About ilco
Could you introduce your studio and a bit of yourbackgroud?
ilco is an emerging design studio regrouping Koa Pham (born in 1993, from Ho Chi Minh city,
Vietnam), Ania Marciniak (born in 1993, from Warsaw, Poland) and Madeleine Duflot (born in 1994, from Strasbourg, France). The three of us met at Central Saint Martins during our BA in Product Design - we have all graduated in 2016. Madeleine and Koa started working on the project in May 2017, developed the first prototype and came up with the name 'Ilco' - 'il' meaning 'he' in French and 'co' meaning 'she' in Vietnamese. In August 2017 Ania joined the team.
What is your main goal as a company?
Our aim is to create more emotional design, more functional art. We want to increase people's well- being through the environment they live in and experience. Since art belongs to everyone and design is everywhere, we want to bring art closer to everyday life through design. We want to
enhance the relationship between design and people, make emotional bonds with furniture
possible.
ilco be present at Salone Satellite, from the 17th to the 22nd of April,
Stand D19 in Pavilion 13-15
We will host a Vernissage on Tuesday, 17th from 5pm onwards.
We would be very glad to see you there!
For further information, please contact:
Veerle Verbakel: veerle@gitzwart.com
Koa Pham, Ania Marciniak, Madeleine Duflot - ilco: hello.ilco.design@gmail.com